The Crypt of the Phantasm: Conclusion
I hope you've enjoyed this tour of our little crypt. It's a big hit year after year, and it really makes for a wonderful way to show off a Flying Crank Ghost. The ambiance generated by the crypt really made a quantum leap for the tone of our graveyard, and the number of Halloween gawkers was very satisfying. I highly recommend this project for any home haunter.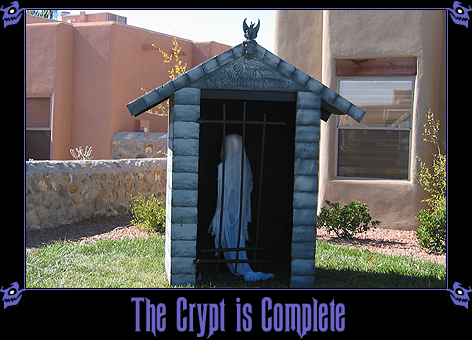 Acknowledgements
Although I did a lot of work on this project, I also had some other people who volunteered to help out, which really made this project move along at a good clip, and made the end product better than what I could have done by myself.
You've already met Daniel in the construction section above. Below is a photo of my buds Byron and Rich posing with the crypt the first time we tried it out with the painted foam pieces. Jen and Barb also helped out, but unfortunately I don't have any photos of them with the crypt. Thanks to everyone that helped out!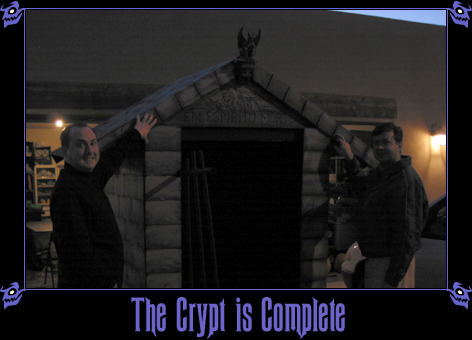 Other haunts using Crypt of the Phantasm
Did you use this effect in your haunt and want to show it off? Let us know about it and we might feature your haunt right here!