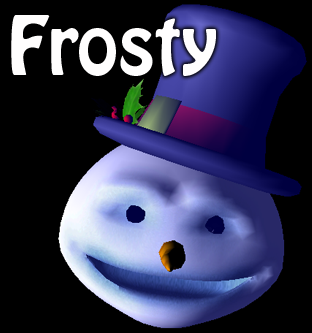 Frosty the snowman
Was a jolly happy soul
With a corn cob pipe and a button nose
And two eyes made out of coal
Features
Simpler controls than our other digital puppets, to make it easier for kids to use.
Customizable backdrops. Comes with a fun, cartoony holly-and-ribbon backdrop, but you can add your own.
Fade Frosty in and out with the touch of a key. Have him look all around, or sing along with the music.
Appearance options allow you to control lighting, floating, and blinking.
CLICK HERE TO PURCHASE
only $15

Try the demo
Please try before you buy! The demo is fully-featured, with only a watermark, so you can find out if the puppet will work for you before you drop a single dime on it.
About
Frosty is our first digital puppet designed to make your holiday season bright. With universal appeal for everyone from the young to the young at heart (and maybe even a Scrooge or two), Frosty can sing along with your favorite Nat King Cole, Ella Fitzgerald, or other song - even one of your own styling!
Sure, we specialize in Halloween haunts here at ImaginEERIEing, but in our experience, many home haunters go above and beyond on all holidays. Whether you like entertaining your guests, or just enjoy making spectacular yard displays, Frosty is the unique decoration that you control.